Young Adult Ministry
We want to welcome all Young Adults to St. Thomas More Parish!
We are small but know our presence is mighty. You will find information about programs at this parish and throughout the Archdiocese here.
If you are interested in helping us to grow the young adult community, don't hesitate to contact us and we'll get the ball rolling!
Sara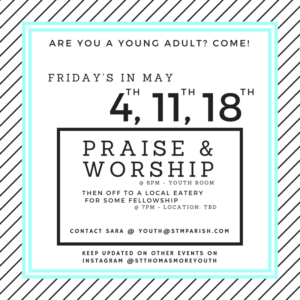 Growing up in a Parish is easy – growing up with a Catholic community… this is a little harder!
Have no fear, we're starting super simply. I, Sara, and a few friends are boldly hosting Praise and Worship over the next few weeks! Why do I say boldly? Well because were new to this, but we want to share with all of you a community spirit and are willing to do that is whatever way is possible!
Its simple, Come to the Youth Room on Friday at 6:00 pm. We'll do some introductions and move into a time of prayer through singing! Have no fear the fun does not end here – after we'll pop on over to our favourite local eatery and just hang out! Everyone over 18 is invited- so don't be shy and bring a friend!
Retreats
Giving God a whole weekend to help Him let you grow is just one of the many great things you can do for you soul!
Continue to check here for updates on retreats around Edmonton and Canada!
Volunteer Opportunities
Young adults are the key to growing our youth communities. We know this. Youth look up to young people as role models, and our faith is no exception.
Growing a community cannot be done by one alone – this is why we NEED YOU! We need young adults with a variety of interests, in a variety of stages in their life, who are willing to share their life (or simply a few hours a month) for the glory of God.
Volunteers needed for:
Youth Groups including:
– Challenge Girls Club (10-16 yrs)
– Conquest Boys Club (10-16 yrs)
– St. Dominic Savio Youth Group (High School)
Sacraments:
Other:
– Anything you might be interested in!
World Youth Day
World Youth Day is an international meeting of youth from all over the world who gather together in one place with their catechists, priests, bishops and the pope in order to profess faith in Jesus Christ. It's a week-long series of events which bring us closer to Christ in unity of the Catholic Church of the World!
Adoremus, Sancti, and Credo
Events for Young Adults @ St. Joseph Basilica
Join other young Catholics at these amazing events hosted by many young Priests from the Archdiocese of Edmonton.

This conference is for families, couples, single people, kids and basically everyone! Over a thousand people attend this conference annually! – Will you be one of them?
"Celebrating our faith is an essential component of our vision, as these events provide participants an opportunity to gather together as a body of believers, to pray, worship, learn, and be encouraged on the journey, always keeping Christ as our focus."
Right from the source – Jason Evert and Matt Fradd will be just a few of the AMAZING speakers for 2018!