Welcome to St. Thomas More Catholic Parish
Christmas Mass Schedule
Fourth Sunday of Advent
Sat. Dec. 23: 4 pm / 7 pm
Sun. Dec. 24: 9 am / 11 am
Nativity of the Lord (Christmas)
Sun. Dec. 24: 4 pm / 6 pm / 8 pm / 10 pm / midnight (incense at midnight)
Mon. Dec. 25: 9 am / 11 am (incense at 11 am)
Feast of the Holy Family
Sat. Dec. 30: 4 pm / 7 pm
Sun. Dec. 31: 9 am / 11 am
Solemnity of Mary, Mother of God
Sun. Dec. 31: 5 pm
Mon. Jan. 1: 9 am / 11 am
The regular weekend mass schedule resumes on Jan. 6/7
DAILY MASS SCHEDULE
Tues. Dec. 26 – No mass
Wed. Dec. 27 – No mass
Thurs. Dec. 28 – 9:30 am
Fri. Dec. 30 – 9:30 am
Tues. Jan. 2 – No mass
Wed. Jan. 3 – 9: 30 am
Thurs. Jan. 4 – 9:30 am
Fri. Jan. 5 – 9:30 am First Friday (see below)
Sat. Jan. 6 – 9:30 am First Saturday
Mon. Jan. 8 – 7 pm – Baptism of the Lord
The regular weekday mass and confession schedules resume on Tuesday Jan. 9.
Regular Weekday Masses & Services
Tuesday: Mass 5 pm
Wednesday: Mass 9 am

Thursday: Mass 5 pm
Friday: Mass 9 am
First Friday of the Month: Devotion to the Sacred Heart of Jesus: Mass at 9 am followed by Eucharistic Adoration until Benediction at 3 pm
On the Saturday following the First Friday of the Month: Devotion to the Immaculate Heart of Mary: Rosary at 8:30 am; Mass at 9 am; Meditation after Mass
Reconciliation
45 minutes before each weekday mass
Saturday 3:30-4:30 pm
Confessions end 10 minutes before mass
Parish Bulletin (PDF)
Pray an AVE Today
Parishioners are invited to pray an AVE (one Hail Mary) a day for our pastor, Fr. Mark.
Read more
about the Ave Apostolate, the Venerable Br. Anthony Kowalczyk, the patron of
Ave Apostolate of Prayer for Priests
or
watch a video
: The Power of One Hail Mary.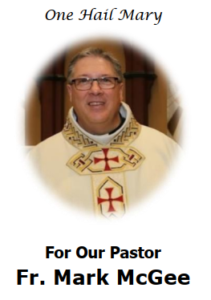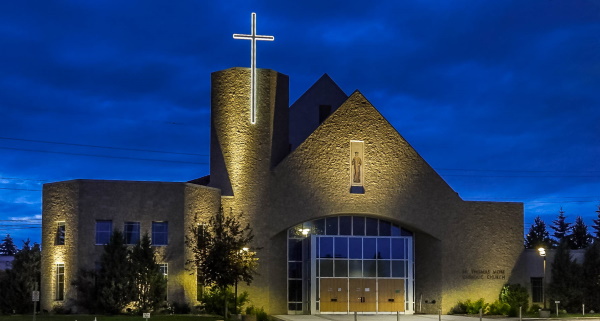 Synod Prayer
We stand before You, Holy Spirit,
as we gather together in Your name.
With You alone to guide us,
make Yourself at home in our hearts;
Teach us the way we must go
and how we are to pursue it.
We are weak and sinful;
do not let us promote disorder.
Do not let ignorance lead us down the wrong path
nor partiality influence our actions.
Let us find in You our unity
so that we may journey together to eternal life
and not stray from the way of truth and what is right.
All this we ask of You,
who are at work in every place and time,
in the communion of the Father and the Son,
forever and ever. Amen.
Advent Giving Tree
The Advent Giving Tree is a St. Thomas More Advent tradition. The support of our parish is needed for the women and children of Lurana Shelter, a refuge for those fleeing from family violence.
Take one of the stars and angels from the Giving Tree with a needed item or refer to the posted
list of items
beside the tree and on the parish website (
Giving Tree Items Requested 2023
). All items must be
new, not promoting violence,
and
unwrapped.
Drop off your gifts by the Giving Tree located in the gathering space of the church during Advent (from Dec. 2 to Dec. 17). Giving gift cards is strongly encouraged (suggested maximum amount per card is $50) and, if purchased from the Knights of Columbus, results in double giving.
The Catholic Women's League is coordinating this project once again and thanks all for their support.