Welcome to St. Thomas More Catholic Parish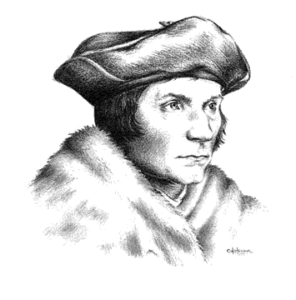 We have returned to our regular schedule of weekday and weekend masses.
Special safety protocols are in place as per guidelines from the Archdiocese.
Livestreamed masses continue to be available here or on Facebook.
Guidelines for Returning to Mass
Masks are mandatory.
Attendees are expected to sanitize their hands upon entry and exit, answer self-assessment health check questions, and provide contact information (name and phone number) before entering the church.
Attendees should also expect to sit in designated pews to ensure the 6-foot physical distancing requirement. Come early to allow time for screening.
Please note:

The 5 pm Saturday, 8 am Sunday and 5 pm Sunday masses have more room to accommodate additional attendees.

Holy Communion will be received in the hand and there will be no distribution of the Precious Blood. (Keep your mask on until you have received Eucharist on your hand. Step to the side to remove your mask and consume. Then put your mask back on before returning to your seat.)
Anyone with symptoms or the especially vulnerable are encouraged to stay home.

Archbishop Smith has granted to all the Catholic faithful a dispensation from their Sunday obligation during this time.

Detailed Guidelines for Returning to Mass
Livestream Masses: We invite you to join us each Saturday at 5 pm for livestreamed mass from the parish here (below) or on Facebook.
Weekend Mass Times
Please note: The 5 pm Saturday, 8 am Sunday and 5 pm Sunday masses have more room to accommodate additional attendees.
Saturday Vigil Mass at
5 pm (livestreamed)
Sunday Mass at
8 am, 10 am, 12 noon, *new* 5 pm
Weekday Masses & Services
Tuesday: Mass 6 pm
Eucharistic Adoration & Benediction: 5 pm
Thursday: Mass 9 am
Friday: Mass 9 am
Reconciliation
is available 60 minutes before all weekday masses (morning and evening), and by appointment.
Parish Bulletin
Vigil Mass for 25th Sunday in Ordinary Time (September 19 at 5 pm)
My dear Brothers and Sisters in Christ,
St. Thomas More Parish is a varied and diverse community. We come in all shapes and sizes; we vary in our looks and in our ages. But we share a common belief and are committed to our Catholic Faith. We are members of the Body of Christ. We are His Church.
If we want our parish to continue to be vibrant, welcoming, fruitful and prayerful, it is up to each person to do their part. Each of us, from the youngest to the oldest, from the smallest to the biggest, is called to share their time, talent and treasure.
Many of you are already involved in the life of our parish. And with your ongoing help, our parish will continue to grow and prosper. I encourage you to ask yourself, "What am I doing for God and my community?"
May God continue to bless us all.
Fr. Mitchell Fidyka, Pastor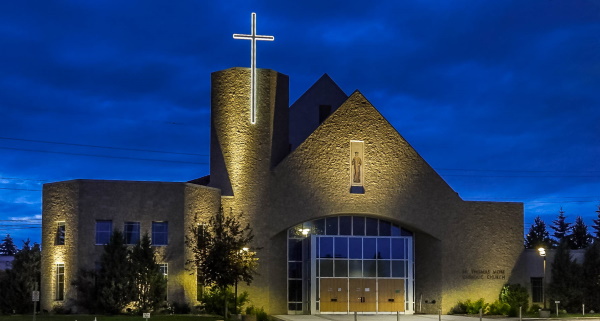 Our church looks beautiful at night! The mosaic of St. Thomas More was recently installed, as was the lighting on the cross.