Welcome to St. Thomas More Catholic Parish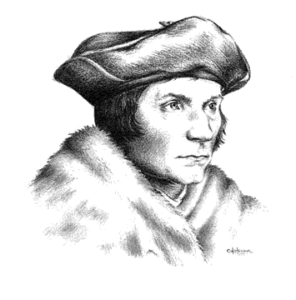 Updated Sept. 16, 2021: In compliance with new guidelines from the Chief Medical Officer of Health,
masks are mandatory, capacity is limited to 1/3 fire code capacity, and two metres (2m) physical distancing between households is required.
Provincial Restrictions;
Archdiocesan Guidelines
Livestreamed masses
are still available here, on
Facebook
,
YouTube
, and Telus OptikTV (Channel 877).
ADVENT 2021
Advent Giving Tree
Kamloops Reconciliation
Watch Video
: Chief Littlechild and Archbishop Smith's Statement on Kamloops and Reconciliation
Read FAQs
: Detailed FAQs and Answers from Archbishop Smith
Watch Video
: Vigil for the 215 at Sacred Heart Church of the First Peoples
Weekend Mass Times
Saturday Vigil Mass at
Sunday Mass at
8 am, 10 am, 12 noon, 5 pm
Weekday Masses & Services
Tuesday: Mass 6 pm
Eucharistic Adoration & Benediction: 5 pm
Wednesday: Mass 9 am

Thursday: Mass 9 am
Friday: Mass 9 am
Reconciliation
The sacrament of reconciliation is available 60 minutes before all weekday masses (morning and evening), and by appointment.
Parish Bulletin
My dear Brothers and Sisters in Christ,
St. Thomas More Parish is a varied and diverse community. We come in all shapes and sizes; we vary in our looks and in our ages. But we share a common belief and are committed to our Catholic Faith. We are members of the Body of Christ. We are His Church.
If we want our parish to continue to be vibrant, welcoming, fruitful and prayerful, it is up to each person to do their part. Each of us, from the youngest to the oldest, from the smallest to the biggest, is called to share their time, talent and treasure.
Many of you are already involved in the life of our parish. And with your ongoing help, our parish will continue to grow and prosper. I encourage you to ask yourself, "What am I doing for God and my community?"
May God continue to bless us all.
Fr. Mitchell Fidyka, Pastor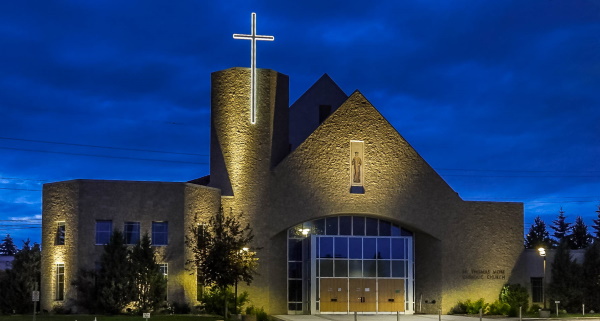 Our church looks beautiful at night! The mosaic of St. Thomas More was recently installed, as was the lighting on the cross.
Year of St. Joseph
The apostolic letter "Patris corde" (With a Father's Heart) declares this to be the year of St. Joseph. Pope Francis describes Joseph as a beloved father, a tender and loving father, an obedient father, an accepting father. a father who is courageous, a working father, a father in the shadows.
This marks the 150th anniversary of Blessed Pope Pius IX's declaration of St. Joseph as Patron of the Universal Church. St. Joseph is also patron of Canada, of our archdiocese, of workers, immigrants, travelers, unborn children and of a happy death.
Joseph was accepting the will of God, serving as obedient protector of Mary and Jesus. He was a courageous man, dealing with the problems that his family faced. He provided for his family displaying the value, dignity and joy of work. Joseph teaches us by example to strengthen our daily faith life in the fulfillment of the will of God. In this time when the need is great, Joseph reminds us to quietly care for and protect others.
"Fathers are not born, but made," says Pope Francis. "A man does not become a father simply by bringing a child into the world, but by taking up the responsibility to care for that child." Joseph is the model for all fathers of the world. His quiet obedience and acceptance is an ideal for us all.
In this year of St. Joseph, we encourage you to entrust yourself and your family to his care, intercession and protection.
Prayer to St Joseph
Hail, Guardian of the Redeemer,
Spouse of the Blessed Virgin Mary.
To you God entrusted his only Son;
in you Mary placed her trust;
with you Christ became man.
Blessed Joseph, to us too,
show yourself a father
and guide us in the path of life.
Obtain for us grace, mercy, and courage,
and defend us from every evil. Amen.