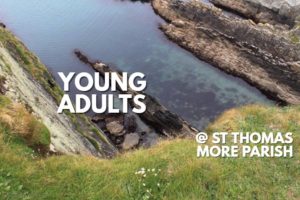 Young Adults
God Bless,
Sara Dmitri, Youth & Young Adult Coordinator
LETS HANG OUT!
Young Adults meet every Tuesday from 7:00 – 8:30 pm, in the Youth Room! Meetings rotate between a faith formation talk, prayer, social nights, and service projects and always end in prayer together! Join the parish beforehand for Adoration and Confession at 5:00 pm, and Mass at 6:00 pm!
Come out to visit! Hope to see you there!
World Youth Day 2022
Have you heard? Fr. Mitch has great goals! For St. Thomas More to take 100 + young adults 18 – 35 to World Youth Day in Lisbon Portugal in 2022!
We are in need of lots of help! Planning meetings will start in September!
Yes its early, but this means we will (hopefully) fund raise enough money, and grow in fellowship together – therefore making the trip all more meaningful!
Positions that need to be filled include:
– Fundraising Coordinator
– Lisbon, Portugal researcher
Volunteer Opportunities
Young adults are the key to growing our youth communities. We know this. Youth look up to young people as role models, and our faith is no exception.
Growing a community cannot be done by one alone – this is why we NEED YOU! We need young adults with a variety of interests, in a variety of stages in their life, who are willing to share their life (or simply a few hours a month) for the glory of God.
Volunteers needed for:
Youth Groups including:
– Challenge Girls Club (11-16 yrs) – Wednesday evenings
– Conquest Boys Club (11-16 yrs) – Wednesday evenings
– Anchor Youth Group (High School) – Sunday evenings
Sacraments:
– Confirmation (11+ yrs) – Sunday afternoons or Monday evenings
Other:
– Saint Vincent De Paul Liason with Youth
– Knights of Columbus Liason with Youth
– Anything you might be interested in!