Welcome to St. Thomas More Catholic Parish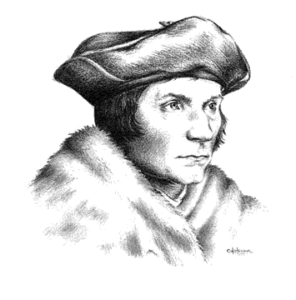 Updated Sept. 16, 2021: In compliance with new guidelines from the Chief Medical Officer of Health,
masks are mandatory, capacity is limited to 1/3 fire code capacity, and two metres (2m) physical distancing between households is required.
Provincial Restrictions;
Archdiocesan Guidelines
Livestreamed masses
are still available here, on
Facebook
,
YouTube
, and Telus OptikTV (Channel 877).
He must increase…
Kamloops Reconciliation
Livestreamed Masses
Vigil Mass for the 2nd Sunday in Ordinary Time (January 15th@5:00pm)
For our previously recorded masses, please see our full archive on YouTube or Facebook. Recent masses may be found
here
.
Weekend Mass Times
Saturday Vigil Mass at
Sunday Mass at
8 am, 10 am, 12 noon, 5 pm
Weekday Masses & Services
Tuesday: Mass 6 pm
Eucharistic Adoration & Benediction: 5 pm
Wednesday: Mass 9 am

Thursday: Mass 9 am
Friday: Mass 9 am
Reconciliation
The sacrament of reconciliation is available 60 minutes before all weekday masses (morning and evening), and by appointment.
Parish Bulletin
My dear Brothers and Sisters in Christ,
St. Thomas More Parish is a varied and diverse community. We come in all shapes and sizes; we vary in our looks and in our ages. But we share a common belief and are committed to our Catholic Faith. We are members of the Body of Christ. We are His Church.
If we want our parish to continue to be vibrant, welcoming, fruitful and prayerful, it is up to each person to do their part. Each of us, from the youngest to the oldest, from the smallest to the biggest, is called to share their time, talent and treasure.
Many of you are already involved in the life of our parish. And with your ongoing help, our parish will continue to grow and prosper. I encourage you to ask yourself, "What am I doing for God and my community?"
May God continue to bless us all.
Fr. Mitchell Fidyka, Pastor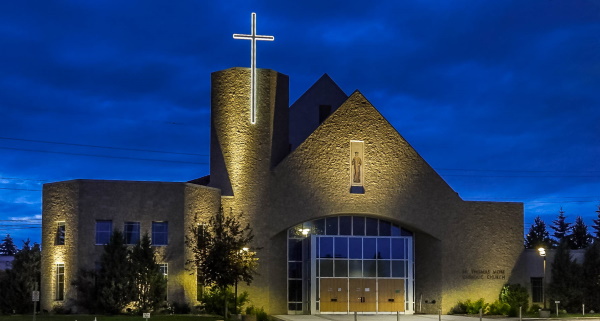 Our church looks beautiful at night! The mosaic of St. Thomas More was recently installed, as was the lighting on the cross.
Synod Prayer
We stand before You, Holy Spirit,
as we gather together in Your name.
With You alone to guide us,
make Yourself at home in our hearts;
Teach us the way we must go
and how we are to pursue it.
We are weak and sinful;
do not let us promote disorder.
Do not let ignorance lead us down the wrong path
nor partiality influence our actions.
Let us find in You our unity
so that we may journey together to eternal life
and not stray from the way of truth and what is right.
All this we ask of You,
who are at work in every place and time,
in the communion of the Father and the Son,
forever and ever. Amen.