In Confirmation the soul of a baptized Christian is imprinted with a permanent seal that can be received only once and mar
ks this individual forever as a Christian. The gift of the Holy Spirit is the strength from above in which this individual puts the grace of his Baptism into practice through his life and acts as a "witness" for Christ.
Welcome to Confirmation 2022!! On this page you will find each week's homework, as well as the details and resources for your assignments. This page is accessible only to you (confirmands) and your families to help you complete your work for that week, before the next session. May the Holy Spirit be with you and guide you in your preparation for Confirmation!
SCHEDULE
The lessons are mandatory for all candidates and will start promptly at the specified time. Parents and sponsors are required to attend the rehearsal.
Please note there will be no session on May 29, and the Reconciliation date is changed to Saturday, June 4.
Confirmands will staggered and will come at their start times, based on their lesson groups, which they should all know. Ensure to check in with Confirmation team for attendance.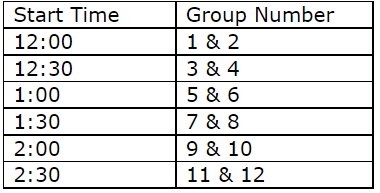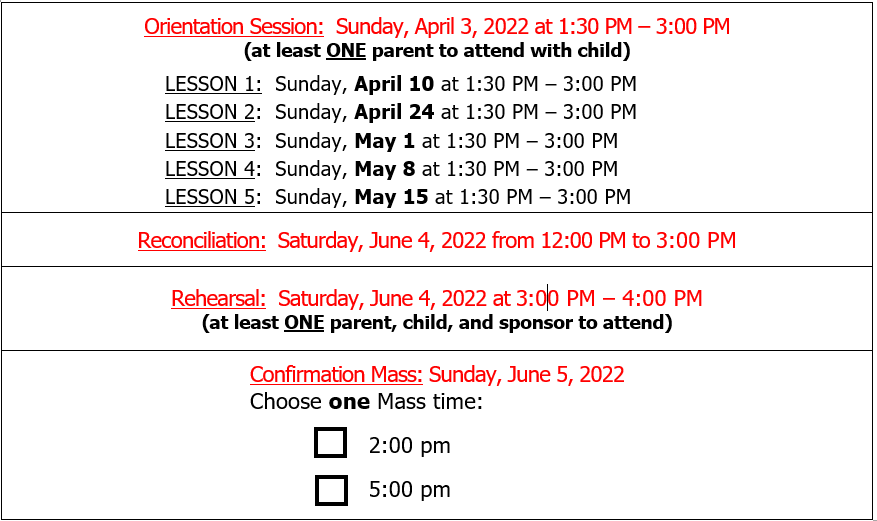 For Confirmation Mass, confirmands can wear white, but is not required. Attire should be Sunday best and modest.
Whole group photos will be taken with the celebrant(s) 30 minutes before each Mass. All confirmands need to be ready to take photos at 1:30 PM or 4:30 PM. Individual photos may be taken after Mass.
PARTICIPANT CONSENT FORM AND RELEASE
Photos of children and their work may be displayed in the parish or in the parish website. If you haven't already at the parent orientation, please complete and sign both pages of the
Participant Consent Form
and email to Julie.Lee@caedm.ca
HANDBOOK
Please click on
Handbook
to access information and resources. The handbooks that were distributed at the orientation were printed last year, so the dates will not be correct. Also, please follow the instructions under ASSIGNMENTS below for all three assignments. .
ASSIGNMENTS
Click on each link (assignment name in green) for details of each assignment. PLEASE DO NOT EMAIL YOUR ASSIGNMENTS. (If you don't have a printer, you can email me at julie.lee@caedm.ca)
Saint Report– Due May 1
You have the option of answering the questions in the document, creating a poster, or printing a PowerPoint or Google Slides presentation. Please do not copy and paste from the websites.

Please see the saint reports on the bulletin boards (on the way to the hall) and in the black binder (underneath the boards), and get to know more about some of our awesome saints!
Letter to the Archbishop– Due May 15
Please do not copy the sample letter. Only use it as reference for format and types of content that could be included.
Service Project – Due June 4
Although you are not required to fulfill specific service hours, you are encouraged to serve in some way throughout your preparation

.
As an option for your service project, you may attend a Synod Listening Session with fellow confirmands on Easter Monday, April 18 1:30-3:30. If you attended the session, you may record 2 hours on your Service Project Log and bring it to the next lesson to be signed. If you complete the online survey, you may also record that and have an adult supervisor to sign. Remember to do the reflections afterwards!
As one of the prayer part of the service project, it is strongly recommended that you participate in the Divine Mercy Sunday Holy Hour held on April 24 3-4 PM. Bring your rosary for the Divine Mercy chaplet! If you bring your Service Project Log (in the "Service Project" green link above), you can get it signed afterwards by one of the Confirmation Team.
There are two more opportunities for the prayer part of the service project.

Mary, Help of Christians Novena – Prayer cards will be distributed on May 8th lesson for confirmands and their families to pray the novena for youth, especially youth receiving their Confirmation this year.
Marian Mass on Tuesday, May 31 at 5PM starting with the Exposition of the Blessed Sacrament and rosary and Mass at 6PM.
At the Marian Mass, the confirmands will be offering a blanket of rose messages for Mary. It will be displayed on the steps in front of the statue of the Blessed Virgin Mary on the sanctuary. Click here for the template of the rose and here for my sample. You are encouraged to decorate it and include words of thanks and prayers. You can include how you will strive to follow the example of Mary as a disciple of Christ. I would also like six representatives to process up with the blanket. Please let me know if you are interested.
SACRAMENT OF RECONCILATION
On
Saturday, June 4 (12:00-3:00PM)
you will receive the gift of mercy in the Sacrament of Reconciliation (Penance, Confession). To prepare, review the
Confession Guidelines for Teens,
and then write out your sins on paper to take with you to confession, using the
Sacrament of Penance Step-by-Step
template. We are encouraged to receive this grace as often as we need, so you are welcomed to go anytime before this date. However, everyone is asked to go on the assigned date to be free from sin before receiving the Sacrament of Confirmation.
FORMED
There are 5 short videos to watch as part of homework on some of the weeks.
Enter our parish postal code: T6R 2P3
Enter your name and email to log in.
APRIL 3 – APRIL 9 HOMEWORK
Read YOUCAT paragraphs: 1, 2, 3, 8, 9, 11, 17, 18, 19, 20, 21, 271
Come prepared to answer the KEY Questions:
How is water important in our lives?
How do we use water in our everyday lives?
Begin thinking about what will be in your letter to the Archbishop. (See sample letter in appendix.)
Begin thinking about the types of service you will focus on over the next few weeks.
When doing any research, please use ones specific to the Catholic Faith!
Not all reference material is equally good. View all resources with a critical eye.
Review (as a family) the following videos:
APRIL 10 – APRIL 16 HOMEWORK
1.Complete pages 5 – 13 in the Family Book (parent and child working together).
2.Read YOUCAT paragraphs 26, 27, 28, 29, 33, 193, 194, 195, 197, 200, 201, 202, 261, 203, 204, 205, 206, 207, 208
3.Watch You Are Sent: Ep. 1 Jesus Sends the Holy Spirit (Formed video: see instructions above to sign up)
4.Come prepared to discuss the key questions:
How is oil important in our lives? How do we use oil in our everyday lives?
5.Begin to prepare your Saint Report. Choose a Saint and choose a person in your life who is an example of a saint-like person.
APRIL 24 – APRIL 30 HOMEWORK
1.Read and do the work on pages 14 – 22 in the Family Book.
2.Read YOUCAT 121, 122, 123, 124, 125, 126, 469, 478, 479, 491, 496, 497,
498, 499, 514, 527
3.Watch Formed video: You Are Sent Ep. 3 Sacrament of Confirmation
4.Be prepared to discuss:
What are the traits and qualities that make that person a Saint.
What are the qualities of a good person. How would a good person act?
5.Your "Saint Report" is due for our next lesson. (Hand in your report to your Team Leader at the beginning of the session.)
6.Wear or bring a special piece of clothing to the next lesson.
MAY 1 – MAY 7 HOMEWORK
1.Read and do the work on pages 23-31 in the Family Book.
2.Read YOUCAT with your parents: 360, 146, 342, 303, 310, 311, 86, 87, 88, 89, 90, 91, 92, 93, 94, 95
3.Bring your baptismal candle or a simple 10" taper to the next lesson.
4.Continue filling in your Service log.
5.Look at the outline for the "Letter to the Archbishop" and begin discussing with your parents and sponsor what you will be writing to the Archbishop.
MAY 8 – MAY 14 HOMEWORK
1.Read and do the work on pages 32-38 in the Family Book.
2.Read YOUCAT: 35, 36, 37, 38, 39, 40, 60, 71, 72, 73, 74, 75, 76, 77, 113, 114, 115, 116, 117, 118, 119, 120
3.Watch Formed You Are Sent: Ep 2 Gifts & Fruits of the Holy Spirit
4.Continue filling in your Service log.
5.Your "Letter to the Archbishop" is due for next session.
MAY 15 – MAY 21 HOMEWORK
1.Read and do the work on pages 45-48 in the Family Book.
2.Read YOUCAT with your parents: 213, 214, 215, 216, 217, 218, 219, 220, 221, 224, 225, 226, 227, 228, 229, 230, 231, 232, 233, 234, 235, 236, 237, 238, 239
3.Watch Formed You Are Sent: Ep 5 Sent on a Mission
4.Ensure your Service requirements are met and the Service log is handed in Saturday, June 4 at Reconciliation/Rehearsal.
MAY 22 – MAY 28 HOMEWORK
1. YOUCAT 224, 225, 226, 227, 228, 229, 230, 231, 232, 233, 234, 235, 236, 237, 238, 239
2. Watch Formed You Are Sent: Ep 4 Receiving the Sacrament of Confirmation
APOSTOLIC ACTIVITIES
Make a card congratulating a child's baptism. Include what you have learned about what happens in baptism. You can also share your own faith journey:
– how you are striving to live as disciples of Christ (e.g. prayer life, service, etc.)
– your First Reconciliation & Eucharist
– those who have helped you (Holy Spirit, parents, godparents, teachers, parish, etc.)
Sign the card with your first name and below it write – Confirmation Class of 2022. On the front of the envelope, write –
To: God's Beloved Child.
Click
here
for sample card message. Don't forget to decorate!
You can also make a thank-you card for those who assisted with the confirmation preparation. Include what you learned about what it means to be confirmed. Click
here
for a list of their names.
Please bring these cards to Reconciliation & Rehearsal on Saturday, June 4, along with your service project log & reflections and any other assignments that you haven't submitted in printed or paper form.