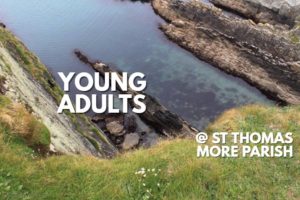 Young Adults
Currently we are building our Young Adult community. Want to join? Email
youth@stmparish.com
and we'll keep you updated!
God Bless,
Sara Dmitri, Youth Coordinator
Retreats
Giving God a whole weekend to help Him let you grow is just one of the many great things you can do for you soul!
Find out about a woman's retreat, lead by Lead Darrow (past America's Next Top Model contestant)
here
! The Women of Dignity Conference is November 16th & 17th!
CCO Rise-up
Dec 28, 2018 – Jan 1, 2019
Early Bird Registration ends September 15th!
*** if we have enough young adults going from Edmonton, we will arrange carpooling!
Volunteer Opportunities
Young adults are the key to growing our youth communities. We know this. Youth look up to young people as role models, and our faith is no exception.
Growing a community cannot be done by one alone – this is why we NEED YOU! We need young adults with a variety of interests, in a variety of stages in their life, who are willing to share their life (or simply a few hours a month) for the glory of God.
Volunteers needed for:
Youth Groups including:
– Challenge Girls Club (10-16 yrs)
– Conquest Boys Club (10-16 yrs)
– St. Dominic Savio Youth Group (High School)
Sacraments:
Other:
– Anything you might be interested in!
World Youth Day
World Youth Day is an international meeting of youth from all over the world who gather together in one place with their catechists, priests, bishops and the pope in order to profess faith in Jesus Christ. It's a week-long series of events which bring us closer to Christ in unity of the Catholic Church of the World!
Adoremus, Sancti, and Credo
Events for Young Adults @ St. Joseph Basilica
Join other young Catholics at these amazing events hosted by many young Priests from the Archdiocese of Edmonton.